TALENT MARKETING- What exactly is it ? (5 minutes read)
Since the last few years, marketing industry, as we say, has fully arrived. It has marked its territory with a permanent marker. Not only has marketing advanced from the traditional structure, it has also created careers for people. Though most organisations have a separate department for marketing, it doesn't stop there. It manifests evidently in the activities of other functions as well. For example- a person applying for the role of a content marketer, will require both the knack for writing, and thorough knowledge in digital marketing. Another such example is Talent Marketing. There may not be a specific department for Talent Marketing unless it is a fairly large, but unconsciously every organisation takes part in this to attract quality talent. The concept is very similar to traditional marketing, i.e. , sellers attracting potential customers. Only here customers are replaced with candidates.
Why should a candidate choose your company out of the many potential offers he has received? What makes you different? This is what Talent Marketing answers. It means selling your company's culture and value proposition as an employer. There are many ways in which this can be approached, and most of them are fairly simple to implement.
Blogs related to your company's expertise, videos which candidates will find intriguing, and also get an idea of what your company believes in.
Further, company's website, is the most common yet effective method to set an impression. The first thing a candidate does after hearing of a potential job opportunity, is to go through the website. The basic thing he/she looks for is "About the company", and "Motive or Vision". 'First impression is the last impression', is not only true for the employer taking an interview, but also for the candidate when he/she visits the website or meets his/her interviewers. It is difficult to cater to the different preferences of candidates. What works for one may not work for the other. But there are a few things which can completely change the mind of a candidate while looking at the company's website. For example, an ad popping up as soon as the site opens will create a significant annoyance for the visitor. Too many pop ups , or a complicated interface can add to the negative list for the company. Hence, over marketing is never a wise choice. On the contrary, a section on CSR activities posted by a company on their website can create a positive impact.
Apart from the website aspect and social presence in general, candidate experience, (as soon as he/she enters your premises) is crucial, now this is counter intuitive to the infographic you see at the top of the blog. While traditional thinking is that Talent Marketing stops once a candidate has applied for an opportunity, the reality is that's when the "rubber hits the road". If not more its equal to a traveller entering a hotel he booked for holidays. The candidate may not have invested in monetary terms, but he/she comes with time, energy, and qualifications which your organisation desires. Long waiting hours, poor coordination, cold communication, are characteristics which aren't overlooked by the candidates. So Talent Marketing is actually every touchpoint of the candidate with the organization and if anything else, the start of the application process marks the "business end" of talent marketing.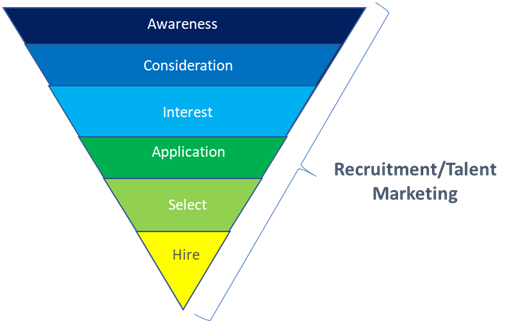 Stats show that 60% of the candidates have negative candidate experience, and almost 75% voice those publicly. Word of mouth spreads like wildfire, and it isn't always positive. Which brings us to Feedback and suggestions to help improve the lags in communication, and candidate experience.
As avoiding the candidate and treating him/her as an outsider can prove to be harmful for the company's reputation. Potential candidates want a sense of belongingness, and also prefer an opportunity to meet the people they're going to work with, if they decide to join. Successful brands like McDonald's website has categories like "Benefits" and "Meet Our People" where they share their employees' stories, roles, images, and testimonials.
A simple quality that is perceived as a benefit by the candidate, can make your company stand out in front of your competitors. Like, a precise and easy to understand job description.
So, your company might not have a separate department for Talent Marketing, but it is omnipresent, and also a holistic approach to recruitment. If you keep the candidate's welfare in mind, it is an easy goal to attain. Ultimately, it all comes down to the company's reputation, you make it or break it.